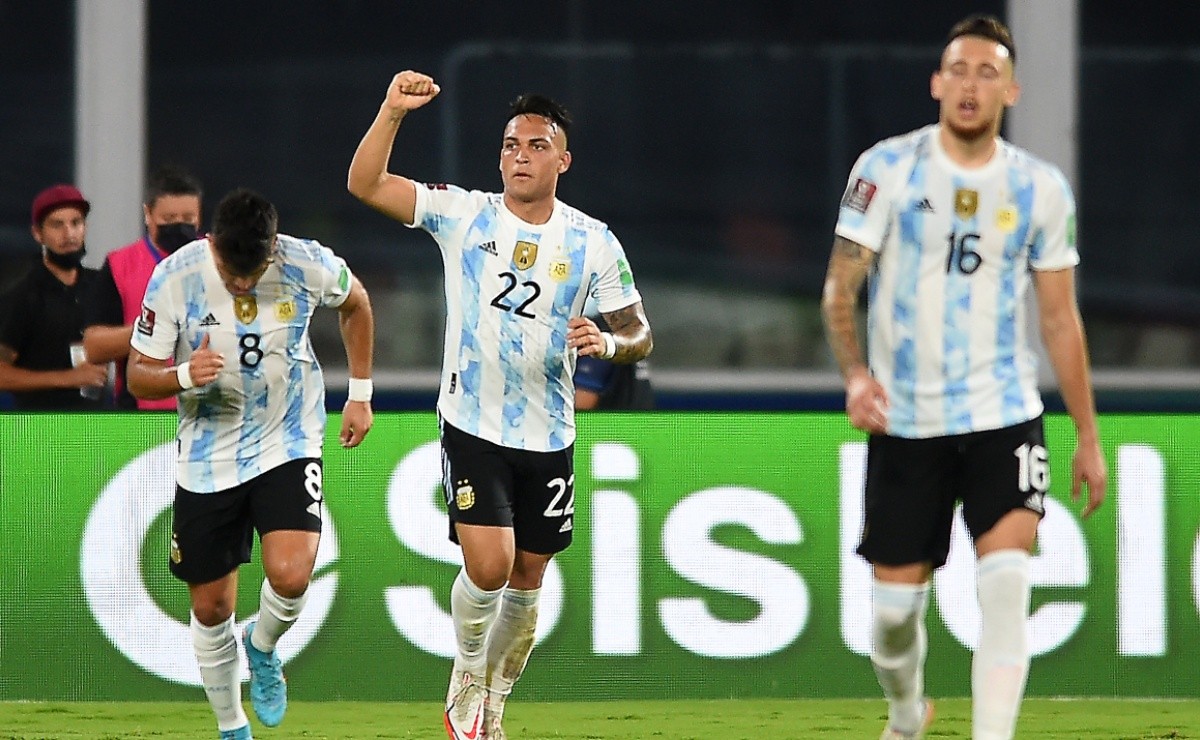 World Cup Qualifiers
Another double-fixture of the South American Qualifiers is on the books as the Qatar 2022 World Cup draws nearer. Here, take a look at the results and standings of the Conmebol competition after Matchday 16.
By Martín O'Donnell
February 02, 2022 03:06PM EDT
February 02, 2022 03:06PM EDT
© Marcelo Endelli/Getty ImagesLautaro Martinez celebrates his game-winning goal for Argentina against Colombia.
With the World Cup just around the corner, the South American Qualifiers are about to conclude. The Conmebol competition returned with another double-fixture before the March window, which will be the last before Qatar 2022. Here, find out the results and standings after Matchday 16.
The 16th round began in La Paz, where Chile claimed all three points against Bolivia to remain alive in the battle for a World Cup berth. Later, Uruguay got the job done at home against Venezuela to make it two from two since Diego Alonso took over.
Argentina extended their unbeaten run against Colombia, whose Qatar 2022 aspirations are in serious danger with just two games to go. Paraguay's dream is over as Brazil were merciless in Belo Horizonte, and Peru have prevented Ecuador from securing a spot in Qatar as they snatched a point in Lima.
South American 2022 World Cup Qualifiers: Matchday 16 results
Tuesday, February 1
Bolivia 2-3 Chile
Uruguay 4-1 Venezuela
Argentina 1-0 Colombia
Brazil 4-0 Paraguay
Peru 1-1 Ecuador
South American 2022 World Cup Qualifiers: Next round games
Matchday 17 (March)
Argentina vs. Venezuela
Colombia vs. Bolivia
Paraguay vs. Ecuador
Brazil vs. Chile
Uruguay vs. Peru
South American 2022 World Cup Qualifiers Standings
Nothing has changed for Brazil and Argentina, who have already sealed their places for Qatar 2022, as they extended their unbeaten runs in the tournament and keep in the first and second spot, respectively.
Ecuador couldn't punch their ticket to the World Cup yet but they are just a few steps away from doing so. Gustavo Alfaro's side is six points clear of Chile and it looks like it's just a matter of time before it qualifies for the World Cup. Peru dropped to the playoff spot but still depend on themselves to get a top-four finish as they face La Celeste in March. Chile still have chances to qualify as they will also face Uruguay but their game against Brazil might be a challenging task.
The outlook is much darker for Colombia, who need a series of results to make their way to Qatar. If Uruguay lose both, Brazil beat Chile, and Peru don't grab more than three points and have worse goal difference, they could finish fourth (also if Uruguay get a point at best and stay below them in GD). If Uruguay win any of their games or Peru claim more than three points, then Colombia would still need the other results to happen to finish fifth. Bolivia's chances are even slimmer, while Paraguay joined Venezuela to the group of teams whose aspirations are officially over.